Welcome to Imago Studio.
When I started work as an occupational therapist at Iona Institute in Belgium in 1986, I worked with adults and young people with developmental delays and challenges. Working and living with them gave me 7 years of learning about the gifts and challenges they bring with them and has given me life-long friendships.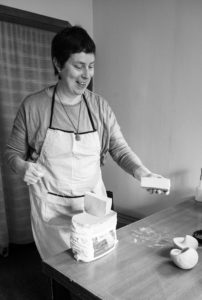 My question of how sculpture could be therapeutic, started there, which led me to do the sculpture training at Emerson College in England from 1993 till 1996. That training gave me a real understanding of the language of form and the power of the creative process.
When I came to New Zealand in 1997, I worked for several years as an artist while raising my daughter. In 2005 I started the training to become an Extra Lesson Practitioner, which brought me back to a deeper understanding of child development, and how we can help children to reach their full potential, academically, socially and emotionally.
What child development and sculpture have in common is that both are about taking hold of, inhabiting and transforming our three dimensional body and world.
In my work I have the help of my little dog Louis, who most of the time sleeps in his basket and occasionally joins us in our play.
If you want to explore any of the aspect I have to offer, please click on the relevant highlighted words and they will bring you to the right pages.
Thank you,
Lut
---
You can contact me on:
Mobile: (00 64) 027 748 1093
Email: lut@imagostudio.co.nz
I work at 37 Pretoria Street
Lower Hutt 5010
---
Cost: 1 hr. session for Sculpture Therapy and the Extra Lesson® Programme is $55.
The initial Extra Lesson® assessment (about 2.5 hrs.), a written report and 1 hour meeting to discuss the findings is $450.
Financial support available for those in need.
---
I am a member of the
---
Code of Conduct for the therapeutic work:
– Confidentiality: All information you or your child gives me is totally confidential and cannot be shared by me with anyone without your written consent. As part of my own professional development I have regular confidential meetings with my mentors where I can, if I need to, talk about my work with your child.
– Duty of care: I will do my utmost to provide you/your child with the best possible care and attention, and will provide you with regular written reports and conversations on the progress made and questions that come up while working.
– Respect for culture and difference: The underlying reason for the therapeutic work is to help people become free and true to their unique selves, respecting the different cultures, beliefs, ages or sexuality.
– Complaints: If you have any concerns about the work I deliver, please feel free to talk to me at any time. If you feel unheard, please ask for contact details of my mentor.
If concerns are in relation to the Extra Lesson Programme, you can contact the president of the Asia Pacific Extra Lesson Association: www.extralesson.com.au